A black man with a gun died yesterday in Charlotte because another black man with a gun shot him. This is an emotionally-charged topic for which there is no easy solution, but I cannot remain silent. The more I process these issues, the more I am learning about myself and my core beliefs. Here's one of them: It's okay not to be perfect. We all make mistakes and stupid decisions from time to time. Some people make a lot more mistakes than others. Some learn. Some never do.
The question is this: Who or what circumstance determines that one's mistake is his (or her) last? What gives one human the right to make that determination for another human? And, to quote my late friend Keith Chesterman, "Where do you draw the line?"
I really struggle with this, because I believe God can take the most messed-up life and flip it to something extraordinary. I've seen it—for real! I've seen drug sellers and addicts transform into law-abiding citizens who are making a positive difference in the world, who love their families, who have completely turned their lives around. In fact, one of them was my Sunday School teacher when I was a teenager. I knew him when he was coming out of the drug scene, and I watched God completely transform his life, his marriage, and the lives of his family. I know it can happen, and I hate to see someone robbed of that opportunity.
I wrote the following blog post last night while I was watching rioting live-streaming from Charlotte on Twitter. (The post has since been updated.)
I had a WONDERFUL group of amazing and hard-working women over to my house tonight (September 20, 2016). Moms with children of all ages who have taken the road less-traveled to home educate at least one of them. I'm so blessed to know them, to learn from them, and to be able to encourage them now that I'm in my eighth year of this journey.
Sadly, while we were busy swapping homeschooling stories, another AFRICAN-AMERICAN CITIZEN OF THE UNITED STATES was shot and killed by police in #Charlotte. What the heck is going on?! This is ridiculous! We have a JUSTICE SYSTEM for a reason! According to the Charlotte Observer:
Police said they approached the man [Keith Lamont Scott] after he got back into the vehicle. The man got out again armed with a firearm "and posed an imminent deadly threat to the officers, who subsequently fired their weapon striking the subject," police said in a statement. "The officers immediately requested Medic and began performing CPR."
Scott was not the person officers were searching for to arrest on the outstanding warrants, CMPD Chief Kerr Putney told reporters at the scene.
This man, now D.E.A.D., was NOT even the man they were looking for! And apparently, there are questions being raised about whether or not he was armed in the first place.
Police said they recovered the firearm Scott was holding when police shot him shortly before 4 p.m. Police were also interviewing witnesses. [HOWEVER,] a woman who said she is Scott's daughter claimed that the man was unarmed when he was shot. (Charlotte Observer)
While I join the rest of the world waiting for official details and body camera video—and I hope they release it soon—I wonder how I would have felt as a black man being approached by police today: the day after Terence Crutcher was shot and killed in Tulsa with his hands in the air near his broken down vehicle.
News Update September 21, 2016:
Police are confirming that Keith Thomas Scott was in possession of a firearm, and he did not comply with repeated requests to drop the gun.
Here is a link to the brief with Charlotte's Chief of Police: http://www.nbcnews.com/video/charlotte-police-claim-keith-lamont-scott-had-handgun-prior-to-fatal-shooting-770135619660

Here is a link to the timeline of how events unfolded on social media and in real life:
http://www.nbcnews.com/video/police-chief-clears-up-some-rumors-in-charlotte-police-shooting-770211907505
Blog Update September 21, 2016:
Again. We wait for further details regarding the Keith Lamont Scott story, but my conviction remains: LEOs should not shoot-to-kill.
"We need to create a 'Think Tank' to strategize new solutions and a new protocol for the innocent."
I UNDERSTAND that police have a really tough job, and I SUPPORT and RESPECT law enforcement. I'm GRATEFUL for protection. BUT, I do NOT support the shoot-to-kill response.
I DO NOT UNDERSTAND how a suspected TERRORIST who KILLED people —and was trying to kill more—was taken ALIVE while these other men were shot dead for reasons TBD…like, really. I don't get it. Is it just a difference in officer training? How are some restrained and others seemingly not?
I have almost been shamed into silence by my law enforcement friends. These are men I know in real life whom I love and respect. But when I posted on Facebook about the shooting of Philando Castile, my timeline exploded with debate, and at one point, I was told that rather than speak out against this type of violence—and it is violence—I should keep my uninformed opinion to myself and instead do a ride-along with a police officer just so I could personally experience what they go through on a nightly basis. I guess the idea is that I would be transformed by this experience and conclude that since they have a tough job, I should trust them implicitly. That will never happen, because it's not who I am. I'm an INTJ Rational, and I don't categorically endorse anything or anyone. Ever.
Aside: As an INTJ, it's in my nature to be skeptical of authority figures—especially authority figures who expect to be treated a certain way just because of their position (even though they may have worked very hard to achieve that position). According to 16personalities.com, "Authority figures do not impress INTJs, nor do social conventions or tradition, and no matter how popular something is, if they have a better idea, INTJs will stand against anyone they have to in a bid to have it changed. Either an idea is the most rational or it's wrong, and INTJs will apply this to their arguments as well as their own behavior, staying calm and detached from these sometimes emotionally charged conflicts." And, yes, I realize that is as much a weakness as it is a strength.
The fact is: I am not a child. I'm a grown-up 48 year old woman, and a ride-along is not going to change my conviction that police should not be shooting-to-kill suspects. We have a justice system for a reason. Don't get me wrong: I am grateful for the men and women who have taken an oath to protect us. I really am. I know they face a lot of CRAZY out there in the real world…in the 'bad' neighborhoods…but they are not immune to FEAR. Especially in dangerous, or perceived-dangerous, situations. And acting out of FEAR, while life-preserving for one could be life-ending for another.
Is there a solution? There has to be.
I would like to see a think-tank made up of people from different backgrounds and ethnicities work together and strategize a solution to this madness. I'd like to see them/us come up with a protocol for how to handle these unpredictable and quickly-escalated situations—one that yields an arrest (or not) without resulting in the permanent, physical, and irreversible death of the suspect.
OR …
If there is already a protocol in place, then re-educate the public.
"We need to create a 'Think Tank' to strategize new solutions and a new protocol for the innocent."
My question is this: How should I respond when an officer starts out by treating me as a threat and assuming I'm a criminal when I know have done nothing wrong? But I also know that if I don't comply, I could be injured. But if I do comply without speaking, am I agreeing with the false accusation? Am I allowed to question what is happening without being perceived as defiant? Do I comply with no opportunity to question the situation and/or defend myself? What about my personal integrity and sense of injustice that is rising up in my core? The desire to assert my innocence? What would be an acceptable way for me to present myself in such a way that the officer would give me the benefit of the doubt and lower his or her weapon versus assuming the absolute worst possibly resulting in my death? These are the questions we need to be addressing. 
UPDATE: September 21, 2016
As facts about the Keith Lamont Scott case come to light, each side is seeking evidence to support their views. What happens if we learn that Scott was breaking the law by possessing a gun in the first place? What happens if we learn that he was waving it in the air? What happens if we learn that he was in cahoots with the guy they were looking for? Would any of those facts change my opinion that he should not have been killed? No.
I believe in a system of justice for citizens of the United States that involves arresting suspected criminals and bringing them to court for a hearing followed by a jury trial, if necessary. Taking a man's life because he refuses to comply with orders is wrong. Shoot to injure. Shoot to maim. Do not shoot to kill for non-compliance, a bad attitude, or even a verbal threat.
I'm wearing all black all day on Friday because the only way we're ever going to find a solution to this problem is to work together. #weneedasolution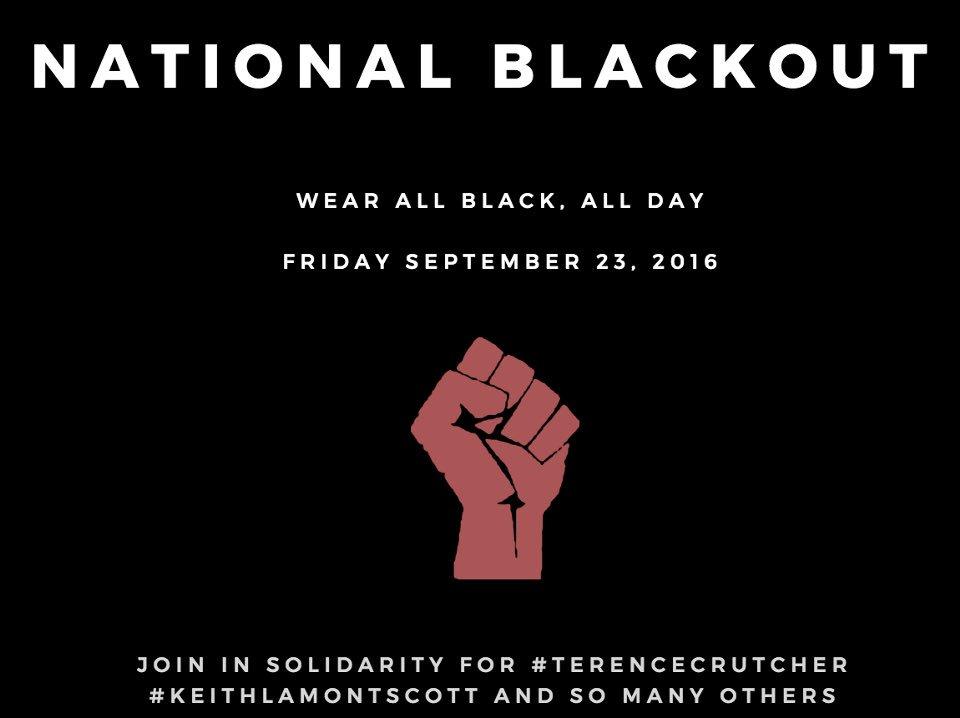 I wish we had eyes to see the way God sees:
But the LORD said to Samuel, "Do not consider his appearance or his height, for I have rejected him. The Lord does not look at the things people look at. People look at the outward appearance, but the LORD looks at the heart." (1 Sam. 16:7)
Come, Lord Jesus! #Maranatha #BlackLivesMatter *

*Use of the #BlackLivesMatter hashtag does not indicate support of the Black Lives Matter organization.