Wow! I just finished reading Mike Kim's new book, You Are the Brand, and I feel like I've attended a weeklong boot camp on building a personal brand business from the ground up.
The subtitle previews what you can expect in the book: A PROVEN 8-step Blueprint which explains in detail how you can build a personal brand across five major fields: speaking, writing, coaching, consulting, and eventually, productizing.
"What is a personal brand business," you ask?
Great question.
According to business coach and marketing strategist Mike Kim, personal brand businesses are "built around the ideas, expertise, reputation, and personalities" of unique individuals—and Kim believes each of us is unique with our own special blend of features (internal and external) which combine to make something unduplicatable. Something uniquely ours. Our brand.
Building Your Personal Brand
If you're ready to take action on your dream of becoming a speaker, writer, coach, and/or consultant, then you need to read this book.
In You Are the Brand, Mike Kim shares how he moved from full-time ministry to a corporate marketing position where he soon realized what he was sacrificing for success was not in alignment with his personal values and the path was set in stone.
It wasn't long until Kim traded his commute for working from home and building a personal brand. He shares how he got on the radar of productivity gurus Michael Hyatt and the John Maxwell Team, and then teaches you how you can get on the radar of industry experts, too.
Building a Personal Brand Can Take Years
After years of honing his skills, Mike Kim is a highly sought-after expert on building profitable and fulfilling personal brand businesses both in the United States and internationally. Kim is committed to normalizing the journey, and he's divided You Are the Brand is organized into two parts.
Part One consists of only a couple chapters which lay the foundation for the rest of the book. In this section, Kim defines what a "personal brand business" actually is; introduces The Path of the Personal Brand™; and sets realistic expectations for the reader about the length of time it typically takes to build one.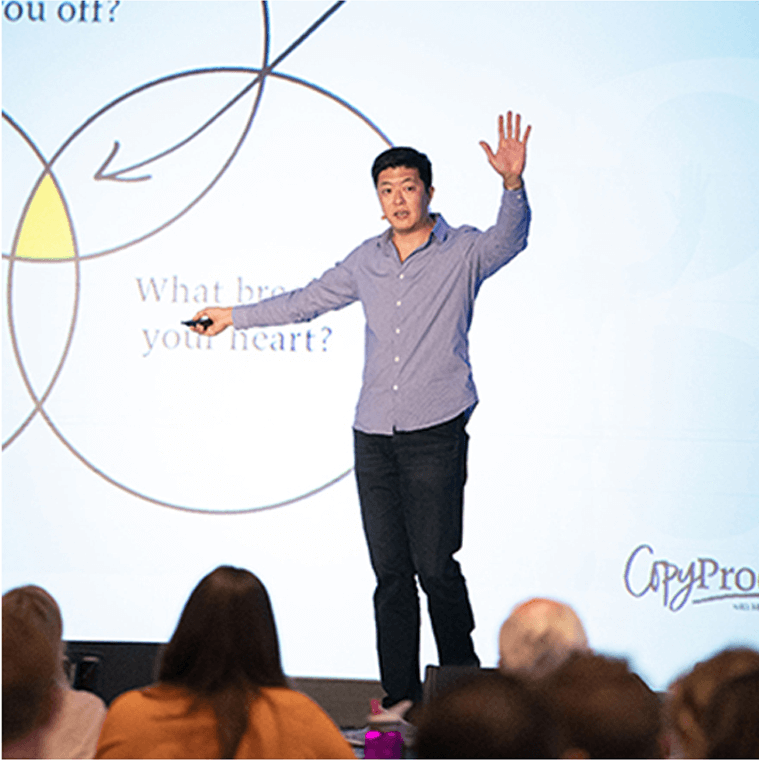 What I appreciate more than anything is Kim's transparency about how much time it takes to navigate the Path to a viable personal brand is for most (if not all) of us. It's not something that happens overnight—for anyone!
It takes focus. And consistency. And determination.
And, likely, years.
"It's important to understand the long game of building a personal brand business…many people (even noncelebrities) have walked this Path. The issue isn't fame; the issue is focus."

Page 37
Before reading any further, stop and ask yourself: How long am I willing to keep at it? Am I willing to stay on the Path to a personal brand for as long as it takes to build one? If you're up for the long haul, then you're going to love this book, and you should stop reading my review, get the book, and start your journey now. You Are the Brand. <– click to buy it now and start taking action immediately.
Building a personal brand takes focus. And consistency. And determination. And, likely, years.Read Mike Kim's essential book for solopreneurs: "You Are the Brand." Available July 2021.#youarethebrand #newbookalert
Click To Tweet
Strategy AND Tactics for Building Your Personal Brand
The content is both strategic and actionable. In fact, to get the most out of Kim's book, I recommend keeping a notebook or journal close by so you can track your answers, draw the charts, and figure things out for your personal brand as you go.
If you do this, by the time you've finished the book, you will have a pretty good idea what your brand should be, who your target market is, and what your next steps are.
Kim is a gifted storyteller with a perfectly dry sense of humor. He sprinkles in true stories at various points on the Path to illustrate a principle he wants you not to miss. The stories are memorable and relatable, and some of his comments are laugh-out-loud funny! 😂
By the time you've finished reading Part One, you will feel like you're traveling the lengthy Path with a trusted friend—someone who's been there, done that, got the t-shirt, and then came all the way back to the starting line to guide you each step of the way on your own personal brand journey.
"One of the most unique (and challenging) things about building a personal brand business is that you can't just 'buy' one…When building a personal brand business, everyone starts from zero."

Page 35
Part Two is comprised of eight chapters, one for each step of the "blueprint" for building a personal brand. Each chapter walks you through a process of clarification on everything from identifying your unique point of view to building multiple income streams through repurposing content. He tells you how to validate your products, how to set your fees (and what to do when it's time to raise them).
The author's superpower is helping individuals identify and differentiate themselves from the competition, and the only way to do that is through sharing personal stories.
Keeping his promise to show you "how to" build a personal brand, Kim offers a template for three specific types of stories essential for your personal brand. The template keeps you on track so you how much to share (and not share) about yourself.
In fact, one theme running throughout the entire book is the importance of building relationships AND setting healthy boundaries.
Over and over again, Kim shines the light on specific areas of your budding business where pre-meditated boundaries are essential to your success (and sanity).
Kim also offers numerous resources to help you with your boundary setting including an intake form and a script to determine whether or not this is someone you want to work with. Forms, scripts, templates, and swipe files are available at no extra charge on his site.
Reading Mike Kim's You Are the Brand is like having a business coach walk you through every step of building a personal brand. He's there to point out the opportunities and potential pitfalls. To cheer you on during the hard times, and help you gather testimonials in the good times. To remind you that you are unique, and we need what only you can give.
When you follow the Path and build your brand according to the 8-Step Blueprint, you will have a recognizable, unique brand; services priced at a rate you feel good about; and healthy boundaries with your clients. You will know how to bounce back from mistakes and challenges, and you will have confidence because you know what it takes to maintain your brand.
Building a personal brand isn't easy, but it is simple and straightforward.
Whether you're just beginning to build your online platform, or you need to do some serious rebranding, You Are the Brand is a must-own companion for the long road ahead. Build your brand one step at a time, in order, and in time, you will have a personally fulfilling business built on a firm foundation.
You Are the Brand: The 8-Step Blueprint to Showcase Your Unique Expertise and Build a Highly Profitable, Personally Fulfilling Business by Mike Kim
If you are interested in purchasing this book, please consider using my Amazon link: https://amzn.to/2U4Opn9.
---
Disclosure of Material Connection: I have not received any compensation for writing this post. Some of the links in the post above are "affiliate links." This means if you click on the link and purchase the item, I will receive an affiliate commission. Regardless, I only recommend products or services I use personally and believe will add value to my readers. I am disclosing this in accordance with the Federal Trade Commission's 16 CFR, Part 255: "Guides Concerning the Use of Endorsements and Testimonials in Advertising."